Welcome to this week's edition of Raw Afterthoughts, where we break down last night's show in more detail than we can in a normal show recap. We'll be recording the flagship audio program, RingRap Audio, later this evening, so be sure to weigh in with your thoughts and questions either in the comments below or hit us on Twitter @RingRap or @RingRapAudio with the #AskRingRap hashtag.
1. You've Convinced Me "Enough."
I gotta admit that I wasn't big on the story of Kane vs. Daniel Bryan. I was skeptical that they could make it important before Extreme Rules. But, WWE did it and they convinced me.
Stephanie McMahon played her apology set-up very well. They didn't undercut Daniel Bryan and Brie Bella by making them look like gullible idiots either. Stephanie's plan got them to the ring with legitimate cause, leaving Kane to attack them.
The little touches were good also. Kane took that wrench shot to the face then sat up out of nowhere. They showed his mask in the glass case a couple times, then the third time it was gone.
I was able to buy in "enough" to this match for the pay per view. It feels important now.
2. Let the Children Sing…
The opening was super hot last night. Wyatt had a children's choir join him to sing "He's Got the Whole World in His Hands," and eventually don sheep masks. It fit perfectly with the Wyatt persona. Cena's in-ring reaction was perfect to it as well. He also teased turning on the fans which would be welcome for many to see a character shake-up.
Cena blew it later though when he cut a blow-off promo on Wyatt. The story was working to that point but his promo kind of killed it. None the less, this was a highlight last night.
3. A Less Than Ringing Endorsement
Ric Flair was off last night. I was confused by his endorsement of The Shield in the pre-match segment with Evolution. It didn't come off well and you could tell the live crowd was puzzled by it too. Now I did note that Flair winked at Evolution. There's a chance they'll go back to this if and when Flair helps his former buddies on Sunday.
4. Wee-LC...
Well, after some thinking, perhaps having a midget-TLC match on the pre-show isn't all that bad of an idea. The fans will probably be more likely to tune in for Hornswoggle vs. El Torito than anything else they would normally throw out there.
The setup of this match was a disaster though. It dragged because no one cares about 3MB or Los Matadores. But we got to see Heath Slater's finisher…I was surprised he had one.
5. The JobberTaker…
Because I just can't help myself....from Twitter last night.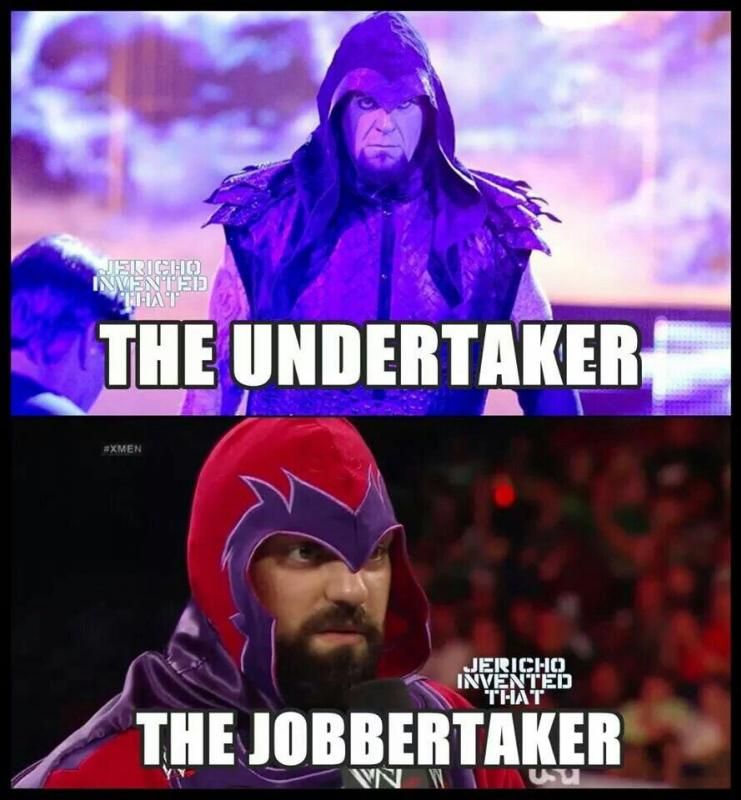 Hugh Jackman is a huge celebrity and he's one that seems to honestly and legitimately have fun in his Raw appearances. His segment with Dolph and Damien Sandow was just total cornball though. It really was just sports entertainment nonsense and skippable filler.
6. Rusev…Fall off Apron…
They had to do something to put some juice into the match with Rusev vs. Xavier Woods and R-Truth. So what they did in their segment was quick and effective. They needed to show that Woods and Truth could get offense on the big man, and they did that here. I have no doubt that Rusev wins Sunday, but this at least makes it look like it will be slightly competitive.
7. Titus With an Edge…
I liked Titus O'Neil attacking Sheamus like he did before their match. Had the two fought a straight up contest, no one would have given it much mind. Titus managed to grab people's attention though by attacking Sheamus during his entrance. Another good thing about the segment was that Sheamus hit his finish, but sold Titus' attack. Decent piece of work by both men here.
8. Where to Go From Here?
I enjoyed the tag title match. When Jey came up lame I thought they might be setting up a title change. But instead, the Usos came back and we got a crowd-pleasing finish to the match. The only thing they really didn't do is use the finish to set up a program continuation though. The tag champs don't have too many other teams to work through at the moment.

Worth noting that Michael Cole had a good, straightforward call of the match here. He sounded engaged in the action and played it pretty straight.
9. Intercontinental Madness…
Let's start with the good part. I am happy that Wade Barrett is getting the shot at Big E Langston on Sunday. He has a good look and good mic work, yet has been wasted since he led the Nexus a couple years ago. I still worry he will suffer the same mid-card fate many others have by losing a bunch of matches though.
The awkward part is the match set up with Jack Swagger, Cesaro and Rob Van Dam. They already have an awkward story with Swagger and Cesaro. Cesaro is a heel aligned with Heyman but fans want to cheer him as a face against heel Swagger. Adding Van Dam makes next to no sense to me either. I hope whatever we get Sunday jump starts Cesaro though, the guy who needs momentum the most.
Overall, this was a decent go-home show. They advanced the top three storylines and put heat on them and made me interested in all. Hearing some reports, the show really flat-lined at times for the live crowd and it did for me at home also.
I give WWE credit for handling the satellite company issues professionally. As you may know, Dish and DirecTV are not going to carry Extreme Rules. WWE didn't go into attack mode, but instead just advised viewers of the issue and gave them options – The Network and cable – for fans to see the event.
Coming up this week, we'll be doing predictions for Extreme Rules along with breaking down the show on RingRap Audio. I'll have your live coverage Sunday night, and Drew will be back with Raw coverage next Monday!